Julie Goldsmith links
Instagram – You can purchase my work through Instagram, where I often sell through the Artist Support Pledge, an initiative founded by artist Matthew Burroughs in March 2020. I am more active on Instagram than here, regularly posting new work and updates on future exhibitions. I reply to all messages.
Royal Society of Sculptures – Profile at the Royal Society of Sculptors.  Elected a member in 2014. Founded in 1905, the RSS is the oldest and largest organisation dedicated to sculpture in the UK. They are based in a beautiful building at 108 Old Brompton Road, donated to them in 1976 by the sculptor Cecil Thomas.
Craft Council – Profile at the British Craft Council directory of makers. Founded in 1971 as the Craft Advisory Committee, in '74 they began the Crafts Advisory Committee Index, an information service for and about craftspeople. The Craft Council run a gallery space on Pentonville Road, which is well worth a visit. Arts Council England provide funding.
London Artists Quarter – Profile at London Artists Quarter. This is an excellent resource for finding artists, with a focus on London's East End, where I have exhibited many times.
Twitter – I occasionally update Twitter.
Julie Goldsmith Press
2022
England on Fire by Stephen Ellcock and Mat Osman, Penguin Random House – I am honoured that some of my paintings are featured in this 'visual journey through Albion's psychic landscape' explored through artists including Paula Rego, William Blake, J M W Turner, Jamie Reid, and Mat Collishaw.
2021
MÜ Magazine, issue 3 – My poem, 'Sister Marie', was published in this quarterly journal of 'art, poetry, music, debate, and dissent'
MÜ Magazine, issue 2 – As was my poem, 'Ghost', in the previous issue.
2020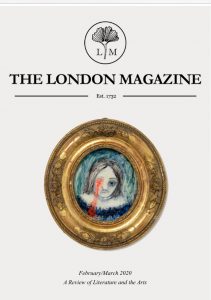 London Magazine, issue Feb/Mar 2020 – I was thrilled for my painting 'Ghost of Marlow' to be chosen as the cover image of this issue of the London Magazine. The painting the is inspired by a visit to Debpford Strand, where the poet, playwright, and spy, Christopher Marlowe, was stabbed in the eye. In the London Magazine, founded in 1732, I always find fresh and impressive new voices.
Libartes Magazine – Several images of my work were featured alongside text in this interesting Serbian/English bilingual magazine.
2019
El Fuego magazine, issue III – I was delighted that the Spanish arts magazine El Fuego ran a 12 page interview feature article on me.
2018
International Times online, 'Angela Carter on a Plate' – a review-poem of my show at the London Summer Art Fare by the writer David Erdos 2018
Crafts Magazine, Nov/December issue 2018 – the designer Bill Armberg featured my work in a Christmas special.
London Art and Food, review December 2018
2017
Poetopography,  'Thomas De Quincey and Ann of Oxford Street' – an essay on my work by Irish poet Niall McDevitt
International Times 50th Anniversary Edition – A special edition edited by the artist Robert Montgomery, who described my work as 'Nadja in Soho'
Some places that I have exhibited (and other assorted links)
Goth Shop – Founded by Faye Dowling, Goth Shop publish books and curate exhibitions, some of which I have featured in. Some of my bowls can be purchased from their online arts and clothing shop, including the Nosferatu Plate and the Vampiress
The Last Tuesday Society – I put on a show here, 'All of Them Witches' in 2016.
Wooden and Dawe – 'Julie Goldsmith's exhibition 'Gas Lane' was our third in the Waterpoint. The pieces were lit dramatically. The exhibition also featured a soundtrack by William Orbit.'
Acava – My studio space in Ladbroke Grove is managed by the very supportive ACAVA (Association for Cultural Advancement through Visual Art)